Photo: BOP Times
We're a bit worried about who's left at Disneyland, because Mickey Mouse and Goofy seem to have moved to Tauranga and taken over urban planning!
If this paywalled article in the BOP Times is correct, then "Greerton Village could be Tauranga's future city centre". Which will be news to the people of Tauranga!
This is the latest in a series of announcements in recent years trumpeting council's plans to revitalise the city centre. Now it seems the city centre could be on the move, or maybe we'll have two city centres? Where does TCC's $324 million civic redevelopment fit into this picture?
A few people actually raised this question about the ideal location for a city centre during the 'UFTI' workshops a couple of years ago, when a select group of 'stakeholders' were invited to discuss the 50+ year plan for Tauranga's future development. Those people were quickly shut down and firmly told that moving the city centre (and suggestions to move the airport and the racecourse) was "not on the table", and the consultants refused to note that feedback.
The biggest problem is that 'SmartGrowth' plans were made without ever involving the people who matter most: the people who actually live in Tauranga and the Western BOP. The key decisions are made by nine councillors (or commissioners), three government ministers and four tangata whenua reps – sometimes in closed rooms – without any consultation at all with local communities. Tauranga is the only NZ city not to have consulted on its urban development and transport plans, so that needs to change now.
Since the UFTI plan was signed off straight after the first Covid lockdown in 2020, we've repeatedly heard that TCC's priorities are to develop the CBD and its surrounding residential areas, to invest over $300m into their civic redevelopment project to "get the heart of our city pumping", to spend hundreds of $millions on Cameron Rd, and to support the $1.5 billion of private investment into the CBD.
We've also been told that we'll effectively end up with three city centres, in line with UFTI's "connected centres" model: the main CBD, plus other city centres in Tauriko and Te Puke-Paengaroa.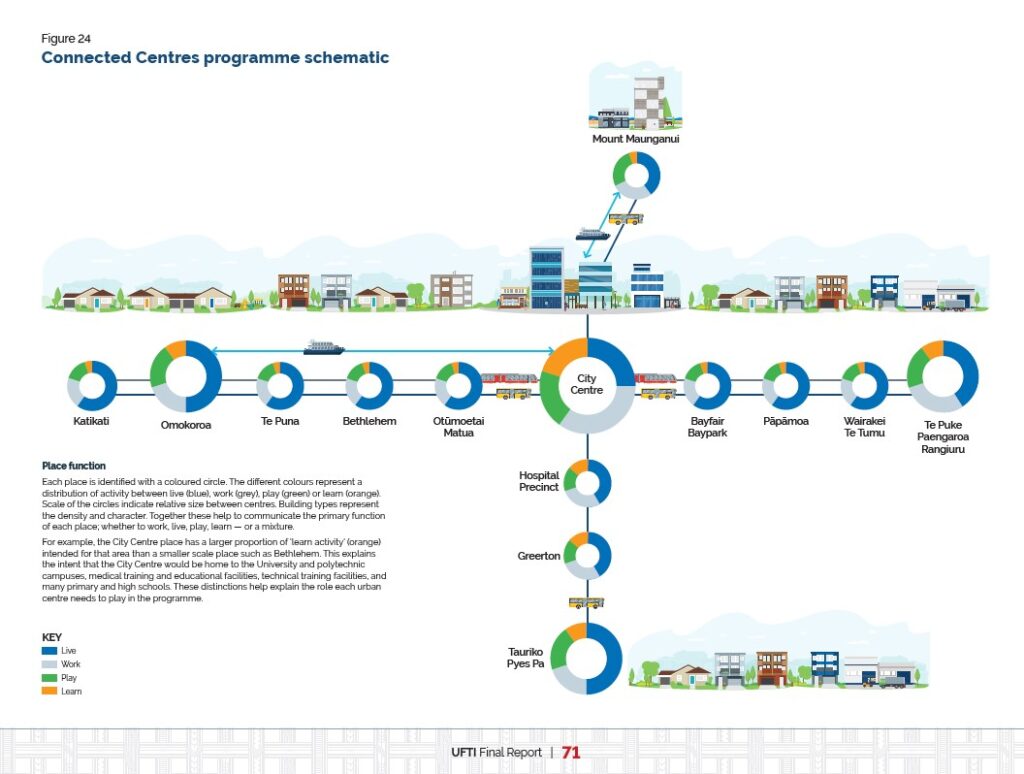 Now, out of the blue, we're told "Greerton Village is expected to be transformed into Tauranga's future city centre". That might be a great idea, but surely the time for that to be discussed was during the development of the UFTI plan.
This all raises a few questions…
1. Do TCC and SmartGrowth know what they're doing?
2. If so, could they please let us all in on their thinking?
3. Does this mean Greerton will be the main city centre instead of the CBD, or the second city centre that UFTI showed at Tauriko?
4. Will the civic redevelopment and stadium at the Domain now be put on hold, while they/we decide the final location of our city centre?
5. Who will pay for the shift and develop the new city centre (infrastructure) at Greerton?
6. How does this impact TCC's $billions of planned transport investments?
7. What do CBD property owners think?
8. What do Greerton businesses and residents think?
9. What do Mana Whenua think?
10. Is that even do-able at a practical level?
We think this is the latest in a series of mis-steps that shows we need a review of UFTI and the SmartGrowth plans for future development of our city. UFTI is not fit for purpose and will perpetuate an unsustainable, high-carbon growth agenda.
UFTI talks about needing to develop greenfield growth areas and intensify existing residential areas. That comes at a big cost. While councils have drawn up plans for urban sprawl up the Kaimai for the next 50 years and TCC is making massive investments into the CBD, there is no realistic plan to actually get intensification happening in Te Papa and Otumoetai. And now, if the BOP Times is to be believed, council has hatched a new plan to move the city centre to Greerton, which appears to directly conflict with their UFTI plan.
We're calling for a immediate review of all urban development plans, and a full public consultation process for the existing SmartGrowth and UFTI plans.