by Jo Wills and Glen Crowther
Tauranga City Council is calling for feedback on the city centre redevelopment, a chance (as Commissioner Tolley put it) for the community to decide ''…do they want to be part of creating a vibrant exciting centre city…or do we just want an ordinary civic centre and rebuild the library and do a bit of landscaping."
The problem with this is that the artist's impression of the commissioners' preferred option is the only one being presented. This isn't good community consultation, or even real consultation.
What's more, there is no business case for any of these developments. There is apparently a "refreshed" library report, and an updated museum business case that is still "a work in progress". However those reports were not made available to the public to help formulate their feedback about this project, so locals are effectively being asked to make their choice based on an artist's impression!
Ironically, this type of approach was one of the criticisms of the previous elected members, which the commissioners were mandated by central government to improve. Community consultation was promised an overhaul. Yet we are getting even less choice nowadays, with only a select few groups being directly consulted, and the broader community hearing nothing until the pre-determined outcome is presented as an "option".
In other words, the process to get to this point has been flawed. It prioritised the voices of those with influence and it shut out any alternative viewpoints. This is a big deal. The lack of genuine community engagement and blatant disregard of good democratic process is scary.
However, there's another equally concerning issue. What, if any, mahi has been done on the masterplan proposal to understand the sustainability impacts on the wider city? What will future residents say about this development, which TCC states is "the largest Tauranga city residents will see in a generation"? To be good ancestors, we must look past the delusions of grandeur that these sorts of developments bring and ask some challenging questions.
It's been touted that this Civic Precinct Masterplan will "put Tauranga on the map". The city is already on the map, but for all the wrong reasons: high carbon emissions (our emissions have increased more than any other part of NZ), a housing crisis, increasing deprivation, poor urban planning, the lowest mode share of any NZ metro city for public transport and cycling, and many polluted waterways.

How will a $303 million city redevelopment solve this sustainability crisis that we find ourselves in?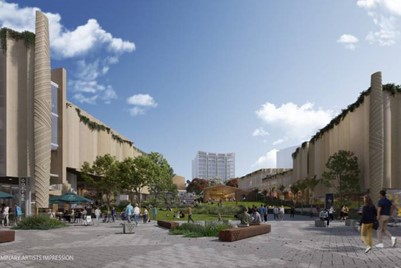 The design document for the refreshed masterplan explains the inspiration and aspirations for the space, with greenery spilling over the rooftops and down to courtyards full of busy looking folk. A space where we can come together for experiences and connection, for enjoyment, culture, and community. Yes to that vision! But at what cost?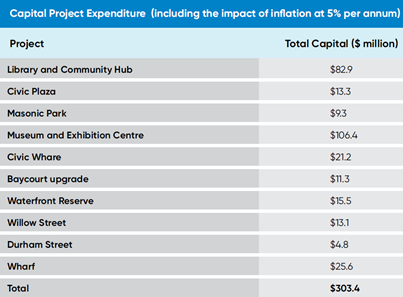 This list shows the proposed projects and their estimated capital costs. What we are not being shown are the operating costs and the costs that are being externalized because of this proposal. It's likely that no-one involved in this project has looked at the latter, let alone calculated them. That's no longer good enough for a city already staring at increasing environmental degradation and social injustice.
Some of the key questions people need answered:
What are the projected carbon emissions (embodied and operational) of the overall project, including the big plazas and giant 'sand towers'? These are the essential costs of any new development that need to be understood to be good ancestors. There are new, low carbon, green building standards that should be a high priority for all civic spaces. Is this development going to incorporate those? Will there be 'living buildings'? What tools have been used to calculate emissions? Where is this information, or does it not exist?


How will this destination be accessed? How is this development supporting a modal shift towards public and active transport? Where is the public transport interchange and the links to the cycling network?

One of the most exciting things about travelling to a modernised city centre is not needing a car. More cars equal more emissions. The CBD is the one place that's often easiest to get to and from by bus. If the Council's own "once in a generation" civic centre is not going to be based around accessibility to public transport, then it seems highly unlikely that they'll design Tauriko or other new developments in a way that residents will ditch their cars for travel to work.


What other city amenities will not go ahead for this masterplan to happen? Which suburbs will miss out on much needed investment into libraries, housing, community spaces, and transport infrastructure?

Hotels, exhibition centres, and museums are arguably great amenities, but for who? With all the social and environmental issues that Tauranga is facing, should we be investing so much in these experiences for visitors at the expense of the wellbeing of local residents?

Who will miss out because of this massive CBD redevelopment? Will government funding be used up on this massive project, rather than spread across the city? Will Council and central government still be able to provide their promised "affordable housing" for our communities? Will they provide elder housing for our kaumatua and elders that don't own their own homes? What about some much-needed accessible housing for people with severe disabilities?

Will TCC build a much-needed library in Brookfield-Bethlehem? And another library in Tauriko later this decade? What about the long-awaited bus interchanges in Brookfield and Greerton? Safe cycleways for kids to bike to and from local schools? And a greenwaste transfer station on the western side of the city to replace Maleme St?

NONE of those high-priority projects have got a green light from council. Can TCC guarrantee that most of those projects will happen in the next decade without further big increases to our rates? We've looked at their budgets and don't think that's possible.


Why does TCC show $151.5m external funding for Option 1, but no external funding for Option 2. That is comparing an apple with a banana. TCC has already confirmed that 1/3 of that amount comes from the government's "No worse off" compensation for the three waters reforms, so it will be available for either option.

$48.4 million is Tauranga's share of that funding, and they will get that before the reforms are implemented. Then there's some additional "Better off" funding available (either way) if the reforms are implemented as planned.

Putting it simply, much of that external funding will still be available for a scaled back civic redevelopment or for local community projects, so that should have been explicitly stated in the council's document.


Why are there only two options to choose from? What about providing us with some cheaper options? The Greerton library was built in 2016 for about $4.5 million. Let's round that up to $10 million in today's dollars, to account for the massive inflation on recent construction projects. We could build the equivalent of four Greerton libraries in the civic block for less than half the proposed $83 million library!

That'd allow two Greerton-sized libraries for the main library space in the central city, plus another whole library for the archives, plus a fourth to house the "community hub" and TCC's Customer Service Centre. You could build them together in one multi-story building, to further reduce costs and the building footprint. So the question is why only give people an $83 million option?

Think of what we could do with that extra $43 million! We could build cycleways for children in Arataki and Papamoa to safely bike to and from school each day. We could provide much-needed accessible housing for our disabled residents. We could fast-track some of those other community projects mentioned previously. Or we could keep our city's debt and rates under control, so life is a bit easier for future generations.


As for the museum…
We are in favour of a museum, we strongly support mana whenua being at the table, and we love the idea of showcasing local history (Mana Whenua and European). However, we are not prepared to support a $106 million museum just yet. The questions to be answered first are:

a) What kind of museum do we need? One that showcases local history, or one that focuses on international exhibits (as TCC has said it wants)?
b) How much should we spend on this museum to get the best 'bang for buck'?
c) How can we make this the most sustainable, cost-effective museum possible?
d) What are the operating costs? Given that the 'rule of thumb' is that annual operating expenditure equates to more than 10% of capital costs, that indicates at least $174 per ratepayer per year for just the museum's opex! And surely it'll cost a lot more than the standard operating costs to bring in a few international exhibitions?

Council was told in 2018 that a regional museum could be built for $20 million. Let's be generous and call that $40 million in today's dollars. Chuck in some extra design features and a few other bells and whistles and round up to $50 million … and that's still less than half TCC's proposal!

Why do we need to spend $106 million? Who will use this museum? Will it be mainly locals, or visitors from outside the Bay? Will they spend up large in local shops and cafes? Or will it be school trips who come and go from the CBD by bus? Or (high carbon) cruise ship passengers who spend their time at the museum, rather than their money with local businesses?

Show us the business case first. We hear council wants something bigger and better than a regional museum, one that showcases international exhibitions, but do locals want to prioritise that or some of those other community projects? Why weren't they given that choice?


What is the environmental plan for the demolition of the existing buildings and the construction of the new buildings?


What is the $25.6 million wharf? We have revamped Coronation Wharf so many times that we need to be shown a plan that clearly shows what we'll be getting in return for that additional investment.


Why are we focusing so much spending on the CBD and Te Papa? Over $1.1 billion is planned to be spent in that small area of Tauranga by the late 2020s. Yet the 'SmartGrowth' plan calls for providing facilities that enable locals to "live, learn, work and play" in their own communities.

We can't afford to spend that much in every community. We can't even afford to spend that much in each of the SmartGrowth 'centres': Te Papa, Tauriko and Papamoa East. Sustainability is about long-term strategic thinking and making informed tradeoffs, and we need to prioritise our environment and our people before we blow it all on vanity projects.


Where is the greenspace? Green roofs might look cool, but green space at ground level is more valuable. Concrete and paved areas have high embedded emissions, so these big concrete buildings with big concrete plazas are not an environmentally-friendly option.

There is no excuse for civic leaders to be pushing through any development (of any kind, at any scale, in any location) that doesn't stack up on sustainability grounds. The opportunity is certainly there to make Tauranga's CBD more attractive, but not like this.
Tauranga could have an amazing civic centre and waterfront. One that supports regeneration through an exciting, Aotearoa-first urban wilding project. (Encasing trees in concrete doesn't count!) This would be a genuine point of difference for the city and likely gain national and even international recognition. We could follow Tuhoe's lead, with their living building, and show how the built environment can enhance the natural environment.
This approach would build on the CBD's beautiful harbourside setting. It would secure long term operational efficiency, reduce operating costs, and lock in resilience in the face of resource scarcities. We could create a people-centred space that provides for locals of all demographics as well as visitors, while not taking away from our city's special neighbourhood places.
This isn't anti-development. It's a plea for a systemic approach to be adopted, rather than worn-out rhetoric that gives those that stand to benefit from economic growth the keys to the city.
Taking an inclusive and sustainable eco-city / regenerative path will confront the influencers responsible for bringing us the towers and concrete – but it will not destroy their long term vision. The outcomes they say they want, the vibrancy, the visitors to the area, and the legacy will still all eventuate. They just won't come with a big price tag that the environment and our communities can't afford.
Note to reader: Tauranga City Council is asking for feedback on the civic redevelopment and you can make a submission until 26th April by clicking here. If you agree with any parts of this article, please feel free to include them in your submission verbatim, or to put things into your own words.