Submissions to TCC's Long Term Plan Amendment (LTPA) are due by 5pm this coming Tuesday 26 April.
It's taken us a bit of digging to get clear about the exact details of the two options for the Civic Redevelopment. We now have a better understanding of the implications of each option for debt and operating costs covered by rates. The key comparison is $152-$200 million debt for option 1, whereas only $45-$94 million for option 2: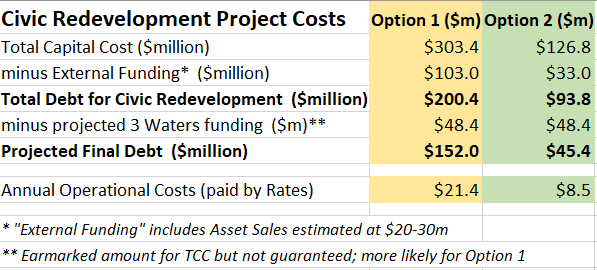 It is interesting to see that the cost of Option 2 could be as low as $45 million, after external funding, asset sales and projected Three Waters funding. That is actually less than the $66m currently budgeted for the central library in last year's LTP (see p.153).
So if Option 2 is adopted, our city debt could actually decrease!! Whereas the TCC consultation document shows a comparison of $152 million for Option 1 v $127 million for Option 2, stating Option 2 has "an estimated investment of just under $127 million which would be fully ratepayer funded."
We're also wondering if TCC is factoring in the proposed CBD Heritage Centre? Council funded a $150,000 feasibility study for this in last year's LTP, and we'd understood it was a far more cost-effective option than the proposed council museum and that it would be ready sooner than any council-built facility. However it's not even shown as an option in this consultation.
Anyway, we've been asked by a number of people to share our view of what could be said on this topic to support a more sustainable city, so here's a summary – just choose any statements you agree with and add your own.
Sample email submission:
TO: itstime@tauranga.govt.nz
SUBJECT: Submission on Long Term Plan 2021 – 31 Amendment
I support an 'Option 3' as follows:
• An alternative design to Option 1 (the Willis Bond design)
• A smaller and cheaper central library
• A new library in Brookfield-Bethlehem, as well as the one already planned for Tauriko. (i.e. Community facilities in local communities, not just the CBD.)
• All buildings built to high green building standards (reduces operating costs)
• Scaled back redevelopment of roads, plaza, waterfront and wharf (saves money)
• Less concrete, more greenspace, more native flora and fauna
• Good links to public transport
• Release the Feasibility Study for the development of a standalone Regional Heritage Centre, and well as the sub-regional Heritage Strategy.
• Provide a complete overview of all culture and heritage facilities planned for Tauranga in the next few years, along with cost implications of each.
• Run a design competition for the civic space.
• Incorporate an authentic "civic whare" and cost-effective council chambers, with appropriate mana whenua design concepts.
• Note that one building combining a library and museum was shown by TCC's consultants in 2017-2018 to be the only option with a positive economic benefit. It could incorporate: library, library archives, community hub, museum, heritage centre, exhibition space, council chambers, etc.
• Finally, run a new consultation on a museum. Provide the costed business case for Council's preferred $106 million option, along with business cases for all heritage facilities above, and ask public their preference between:
a) TCC's preferred $106 million museum (Option 1)
b) A cheaper TCC-funded 'regional' museum (estimated $40-$50m) showcasing Tauranga's history rather than an international exhibits
c) An independent Heritage Education Centre (lower costs to TCC)
d) A combined library and museum/heritage facility
e) No museum
f) Other options (incorporating best aspects of b, c and d)
• After all that, redirect some of the money saved (compared to TCC's Option 1) to developing a more sustainable, equitable and accessible city.
I would like to make an oral submission.
Full Name and contact details.