by Jo Wills
A few years ago, for a period of five years from 2016 to 2020, the community came together to fight for the underpass to be reinstated as part of the Bayfair to Baypark project. On Wednesday 20th April 2022 the new underpass was finally opened to the public.
Riding through the underpass for the first time was a momentous occasion for me. It felt triumphant. It felt like a win. The best part of all, it has provided an outcome where everyone benefits.
The underpass provides a shared, safe, and functional active transport solution that supports every road user. People driving the road above won't have to stop at multiple sets of lights for people crossing the road. It means kids making their way to school, and people walking between the shopping centres, and those using mobility devices won't have to navigate multiple lanes of traffic. And people like me, cycling to the city or elsewhere, can stay on our bikes and keep travelling, without being pedestrianized.
This piece of infrastructure came at a financial cost, unnecessarily high because back in 2013-16 when the design work was done, the underpass was removed from the plan. This meant additional cost to eventually get it back in.
In 2019 I wrote about the community reaction to it being removed, and we were pissed off. There were countless meetings with Waka Kotahi NZTA (and council), arguing till we were blue in the face about the need for the underpass. There was even a protest, and despite the ongoing resistance by the project leaders, we kept at it. Then, finally, logic prevailed, and early in 2020 we received the joyful news that we would get our underpass back.
This was an example of people power. As a community, we represented our collective needs and didn't back down. It's also an example of roading infrastructure that acknowledges the long-term investment into active transport.
Ironically, the underpass will now continue to provide for a growing population in a way that the roads above it never will. When roads are built solely for people driving cars, they will never be big enough to accommodate growth – especially this one-lane-each-way highway.
It's a flawed and borderline stupid approach. If people have no other option than to drive their cars to access work or amenity, then we'll always need to build bigger roads. Sadly, the B2B project didn't allow for a dedicated bus lane to give people another option, so the underpass and grade separation from local roads are the saving grace of the entire project.
The city is still learning this lesson. We are still designing roads in a way that prioritizes cars, rather than the sustainable, efficient, and functional movement of people. We are still prioritizing more space for cars ahead of safe cycle lanes on each side of the road, as in the case of Cameron Rd. Space on the roads for people to drive cars will always be needed, but if that's all we keep building, that's all we'll get.
So, while we have still ended up with a less than ideal outcome at the surface level, we have achieved something significant underneath. Congratulations to everyone who was involved, our voices were heard. Let's use this as an example of what can be achieved by thinking about the bigger picture, about our future generations, and challenging the traditional notions of growth.
Whether you walk, run, scooter, mobility scooter, ride or skate through the new underpass, give yourself a big pat on the back as you move through it. We did this!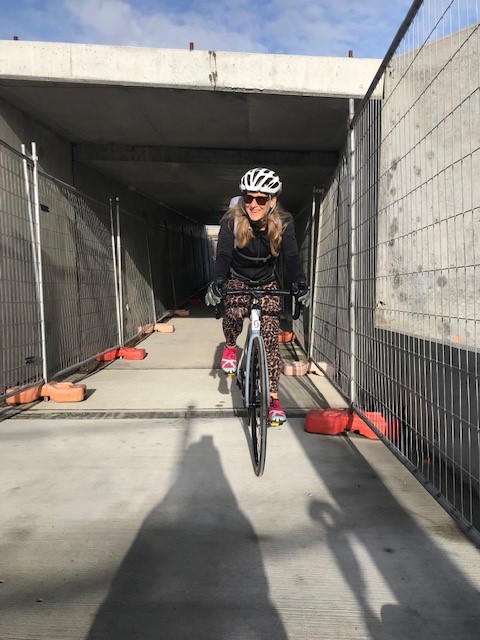 Jo using the new
Bayfair underpass
Photograph by Cory J. Simkin.